Today I'm here with this weeks
Color My Heart Color Dare
of Smokey Plum, Hollyhock, and Olive. Be sure to join us with your own creation and link it up at
Color My Heart
.
I stressed over this one for a while because if you follow my blog you know purple is not a color I use. thankfully Hollyhock was a part of the equation so I jumped on it. I had a great idea in my head but it just didn't work out like I thought so here is how it all panned out.
In the end I really like the card even with the purple. LOL I added lots of little sparkle and shine. I used this months Stamp of the Month It's the Little Things. You can pick it up for just $5 with your $50 order this month.
I got the design and pattern from the Wishes card book. You can find the pattern and cutting instructions of pg. 59. It's the All Stacked Up pattern. If you haven't tried the pattern books by CTMH they're fabulous. They give all the cutting instructions and sizes as well as color samples.
Supplies I used with shopping links
CTMH Ink
- Hollyhock, Smokey Plum, & Olive
CTMH Cardstock
- White Daisy, Olive, & Smokey Plum
S1411
It's the Little Things SOTM
Versamark
Z2067
Silver Embossing Powder
Heating Tool
CTMH Wishes Card
- p.59 All Stacked Up pattern
Wink of Stella pen
Brown pen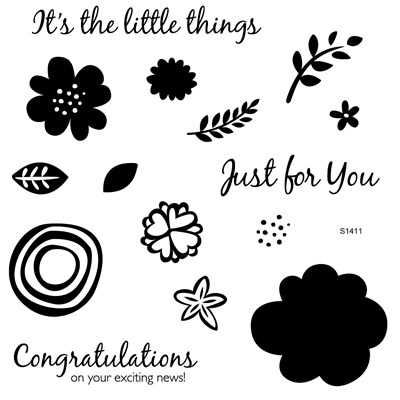 This 15 stamp set
It's the Little Things
is perfect for cards, layouts,tags, and gift items.