I love our new Wanderful paper collection. It's perfect for vacations and so much more. I decided to use it for some random photos our the World Showcase in Disney's Epcot. This was part of last months Scrap Club if you're not a member yet you can get all the details on the Scrap Club link at the top of my blog.
I created the title with the Wanderful Workshop on the Go stamp set. I decided to create a cluster and shelf for my focal photo to sit on. By stamping your image multiple times with different colors of ink and paper piecing them back together using pop dots you can create some great embellishments cheap. The zip strip, washi, and phrase stamped below the photo creates a great shelf for the photo to rest and the embellishments a place to be anchored to.
sorry for the blurry picture but hopefully you can see adding a few stamped images, washi, and embellishments to preprinted paper can added even more wow to a page.
If you've never looked at the Workshop on the Gos they come with all the paper, cardstock, embellishments, and exclusive stamp set along with a full cutting and assembly guide for two layouts for only $24.95 I always have lots of product left to create more layouts.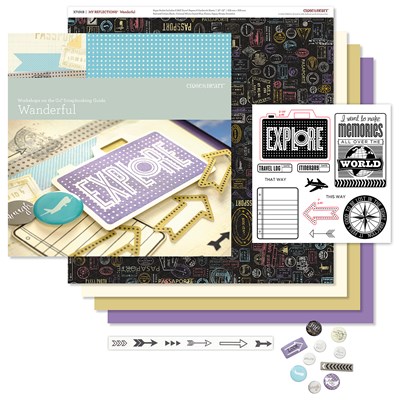 Paper & Stamps -
Wanderful WOTG
CTMH Ink -
Slate, Crystal Blue, Black
Arrow washi
(included in WOTG)
with your $30 purchase


$5 with your qualifying purchase
Shop with me at