I'm getting behind in my posting but I have good excuses. I've been busy working on layouts part of the time but this last week I've been away visiting my son. It's been 5 months since he moved and with Mother's Day I just couldn't stand it any longer. My daughter and I flew out to spend the week with him. It was wonderful but much to short and even harder to leave.
I'm so glad that I've started doing the Month in Review albums so that he can see what all we've been up to as well as the enjoyment we are getting looking at them each month. I leave the album out on the coffee table to enjoy by everyone that cares to sit and peruse.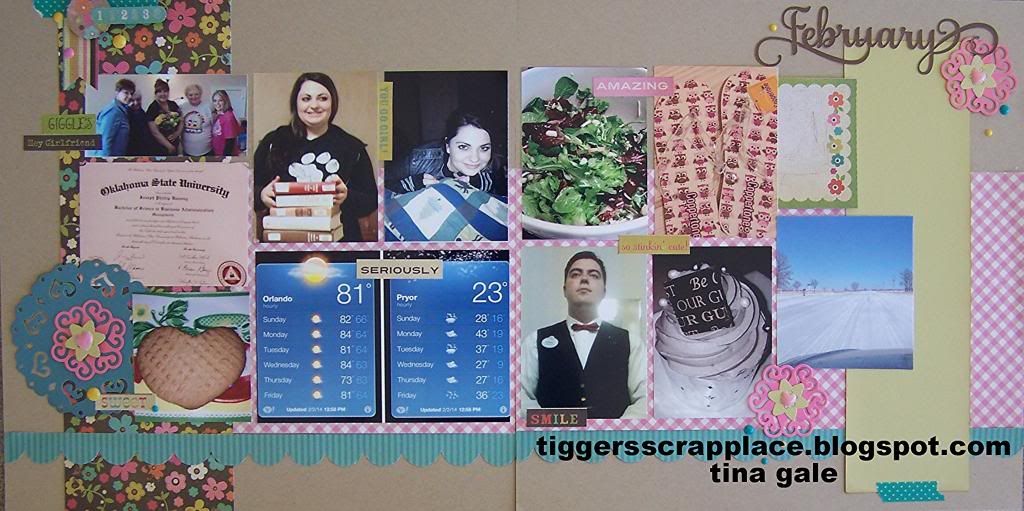 This is February's layout without the journalling. I have some personal stuff to add so decided to do it after it was photographed. I'm still tweaking the layout to more of my liking which will teach me to always do a trial run before I cut up 12 months worth of layouts. Let that be a lesson for all. ;o)
If you're just joining me and don't know about the Month in Review Album you can check out the labels to the side of my blog and find all the information to create your own. I absolutely love doing it and see doing it for a long time to come.
Don't forget this months Close to My Heart specials. It's a double dip month with a special paper pack for only $5 and the Stamp of the Month for $5 with your $50 purchase. you can get all the details on the links in the side of my blog.
Hugz
Tina Gale