I couldn't let National Scrapbook Day go by without scrapping so I grabbed my ScrapRoom kit and a recent photo and got to it. I used a sketch from PageMaps to help get me going. The design is a little out of my norm and definitely stretched me a bit but it was fun and I love how it turned out.
Here's a look at the full process
Supplies I used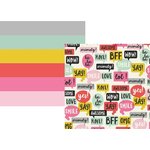 Hugz
TinaGale
This post contains affiliate links which means if you purchase through them I'll receive a small percentage at no extra cost to you. Thank you for the support.