Illustrated Faith
I could not wait to dig in to this
months devotional
. As a family we are facing a lot of things in our life that is trying at times and this devotion has really spoken to my heart. Once I got started it was hard to stop. I know right now I've prayed for direction and just wish God would give me the steps to take but reading through Genesis and Noah I wonder could I ever have that kind of faith even with the exact steps. I think sometimes I need to remind myself that He's not given me detailed steps because i don't need them to trust that He's working all things for my good.
When I got to Abraham I couldn't stop. I journaled several verses and pages because so much was speaking to my heart. Why is it so hard to believe that God has so much more for us than we can even imagine for ourselves. This
devotion
is really teaching me to open my heart more to receive all that God has for me.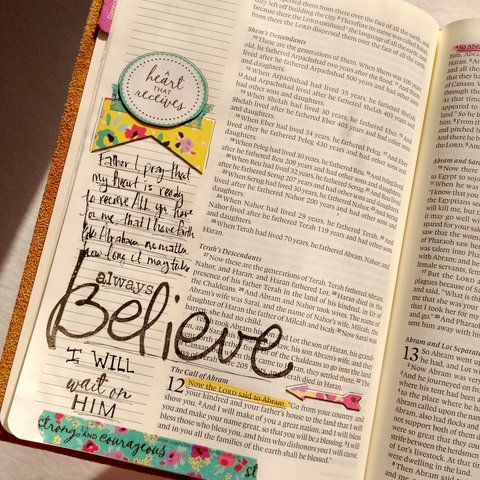 To wait on Him for His abundant blessing in my life. How many times have I tried to help God along with His plan for my life or tried to manipulate situations. I may get what I want but it's NOT God's best for me or His plan but he's always there to make things right again when I mess it all up.
If you haven't picked up this
months kit A Heart That Receives
I would encourage you to hop over and grab it then dig in and get ready to receive all that God has for you. Stay tuned for more entries. I'll be sharing more on Facebook and instagram.
This Bible journaling kit includes a devotional booklet (focusing on cultivating a heart of receivership through an intimate relationship with God), along with coordinating Bible journaling tools such as washi tape, stamps, magnetic bookmarks, tip-ins, stickers and more! Everything you need to get started today.
This post contains affiliate links. If you purchase through them it will not cost you anymore but I will receive a small commission which I thank you for!!