Hello again! Today I'm sharing a layout I created with the fabulous
One Big Happy Family collection from Paper House
. I love all of the colors in this collection and there's so many different ways you can take it. I chose to document a weekend away with my scrappy family.
Here's a look at my process
Each collection has lots of extra goodies to coordinate and I couldn't wait to use some of them. The printed acetate is one of my favorites. I used it as a large mat behind my photos to try and really show it off while keeping my photos the center of interest.
Don't overlook the paper itself for creating your own embellishments. Originally I thought I was going to use the frame paper as my background but I fell in love with the chevron. So what's a girl to do? Why cut up all the frames and words from the paper and adhere them to my chevron background.
I pop dotted some of the frames to create more dimension to the layout. From the sticker pack I found little bits and pieces to fill inside some of the frames. Since this was documenting a fun weekend creating with friends I wanted to create lots of little masterpieces all over my background.
Supply List: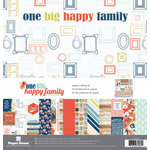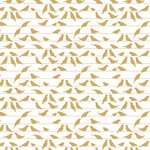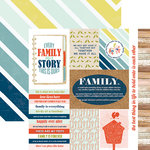 I hope you enjoyed a look at my process and a look at the One Big Happy Family collection for something other than your traditional family.
Hugz
TinaGale